Na festa de São Pio X, pedimos a intercessão de tão insígne Pontífice para que imitemos o seu exemplo de caridade e zelo.
Desde sua primeira encíclica, Pio X urgia por caridade mesmo para com "aqueles que se nos opõe e persegue, vistos, talvez, como piores do que realmente são". Esta caridade não era um sinal de fraqueza, mas estava fundamentada na esperança: "a esperança", escreveu o Papa, "de que a chama da caridade Cristã, paciente e afável, dissipará as trevas de suas almas e trará a luz e a paz de Deus".
Pio X também tinha sua esperança – de ver os adversários da Igreja emendando seus caminhos e renunciando seus erros – no que diz respeito aos modernistas.
Os testemunhos que citaremos o provarão de maneira incontestável. Mas Pio X fez mais: discretamente deu assistência financeira a alguns deles ou lhes arranjou outros ofícios; em outros casos, mostrou-se prudente antes de condená-los. Era esta generosidade, nada excepcional, incompatível com sua determinação na luta contra o modernismo? Como pode o mesmo homem que impõe sanções, depõe clérigos, excomunga, simultaneamente mostrar-se caridoso e contido? Durante o processo de beatificação, o Promotor da Fé apresentou uma série de objeções; uma delas era: "Sejamos francos: a questão, a única questão que, a meu ver, parece se levantar neste grande inquérito, é saber se Pio X, em sua luta contra o modernismo, ultrapassou as fronteiras da prudência e da justiça, particularmente em seus últimos anos…" [Novae Animadversiones, citado em Conduite de s. Pie X, p. 14] A isso, o Postulador da Causa respondeu com um volumoso dossiê de mais de 300 páginas no qual mostrava que Pio X era "firme em seus princípios, correto em suas intenções e paciente e afável com aqueles com quem lidava, mesmo se tivesse razões justas para expressar sua angústia por causa deles". [Ibid., p. 20]
Voltamo-nos a esta questão da atitude pessoal de Pio X para com os modernistas e citaremos vários casos. Os contemporâneos de Pio X talvez desconhecessem esses gestos de caridade e justiça da parte do Pontífice. No dia seguinte à morte do Papa, Mons. Mignot, que era próximo dos modernistas, repreendeu o falecido nos seguintes termos: "Pio X era um santo, com um desinteresse raro para um italiano, mas suas idéias absolutas paralisavam seu coração… Ele esmagou muitas almas, a quem um pouco de ternura teria mantido no caminho correto". [Carta de Mons. Mignot a Hügel, 9 de setembro de 1914, citado por Poulat, Histoire, dogma et critique, p. 480] Os historiadores do modernismo não mencionam os gestos de caridade ou justiça de Pio X, ou o fazem apenas de passagem. O número e a consistência destes atos mostram, todavia, que não foram resultados de decisões excepcionais de sua parte, mas manifestavam uma disposição intelectual e uma atitude espiritual. Na luta contra o fenômeno do modernismo, todos os métodos eram usados, e sem piedade, pois Pio X considerava que a fé dos fiéis estava em perigo e que o futuro da Igreja estava em jogo; por outro lado, quando se tratava da sorte dos modernistas, Pio X, sabendo-o, fazia grande esforço para ser o mais justo, prudente e caridoso possível.
Um exame das relações de Pio X com Loisy, o mais famoso dos modernistas, dá-nos uma boa idéia de seus profundos sentimentos. Como já vimos, quando Loisy manifestou sua disposição de se submeter, Pio X exigia, insistia que o exegeta francês devesse fazer uma completa e sincera submissão "com seu coração". Loisy, que persistiu em seus erros após a Pascendi, acabou excomungado. Viveu em retiro em Ceffonds, Haute-Marne, e logo seria eleito para o Collège de France. No entanto, Pio X não o via como um filho perdido da Igreja. Em 1908, recebendo o novo bispo de Châlons, Dom Sevin, Pio X recomendou-lhe Loisy (a quem ele havia excomungado há pouco tempo). As palavras do Papa foram relatadas pelo próprio Loisy: "O senhor será o bispo do Pe. Loisy. Se tiver a oportunidade, trate-o com gentileza; e se ele der um passo em sua direção, dê dois na direção dele". [Loisy, Mémoires, vol. III, p. 27. Pe. Lagrange dá outra versão destas palavras, versão que ouviu da boca de Dom Sevin; quando o bispo de Châlons perguntara ao Papa que atitude deveria adotar com relação a Loisy se este demonstrasse arrependimento, o Papa respondeu: Recebei-o de braços abertos. Digo ao senhor que ele, meu filho, irá voltar" (Lagrange, M. Loisy et le modernisme, p. 138)]
Outro caso é o do Pe. Murri. Como veremos, a Liga Nacional Democrática que fundara foi condenada pelo Papa. Ele tinha conhecidos laços com modernistas. Em abril de 1907, no despertar de uma série de artigos nos quais Murri amargamente criticava a política do Vaticano na França, Pio X enviou uma carta ao bispo da diocese deste líder democrático, instruindo-o a informar a este último que estava suspenso a divinis. Quando, alguns meses depois, a Encíclica Pascendi estava prestes a ser publicada, havia uma certa expectativa de que Murri fosse imediatamente excomungado, dado que estava absolutamente claro que o turbulento líder democrata cristão se oporia à Encíclica. O problema foi colocado a Pio X, que preferiu ser paciente. Em 25 de agosto de 1907, escreveu à Congregação do Santo Ofício: "Se tudo estiver em ordem com o celebret do Pe. Romolo Murri, ele não pode, sem grave injustiça, ser proibido de rezar Missa, na medida em que não realizou qualquer ato condenado pela Encíclica". [Citado por Dal-Gal, Pie X, p. 404] Murri, contudo, persistiu publicamente em suas posições e foi, ao fim, excomungado em 1909. Posteriormente, ele experimentou graves dificuldades financeiras; Pio X soube disso e pagou-lhe uma pensão mensal.[Depoimento do Cardeal Merry del Val, Summarium, p. 195]
[…]
Pio X tinha de levar muitas coisas em consideração: a salvaguarda da fé e do bem da Igreja, a necessidade e a legitimidade de estudos em matérias de religião, o bem pessoal e a boa fé das pessoas envolvidas, assim como as manobras, as ambições e o zelo das partes. Enquanto Papa, seu dever eram aqueles primeiros; como cristão, estava obrigado a seguir a caridade, prudência e justiça. [...] Pio X sentia como seu dever, enquanto guardião da fé, combater o modernismo, e fazê-lo usando os mais variados métodos e sem fraqueza, pois, como via, a própria existência da Igreja estava ameaçada. Ao mesmo tempo, sem fazer qualquer concessão ao erro, esforçava-se por ajudar os culpados ou suspeitos, e tomava grande cuidado em limitar os excessos dos anti-modernistas. Uma de suas máximas favoritas era: "devemos combater o erro sem ferir as pessoas envolvidas".
Saint Pius X, Restorer of the Church – Yves Chiron, Angelus Press, 2002, pp. 236-237;241-242. Tradução:

Fratres in Unum.com

.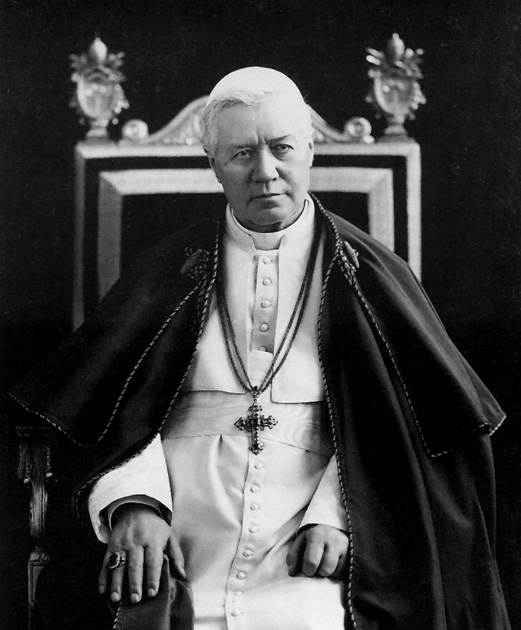 Hoy se celebra la festividad de San Pío PP. X, dos días después del centésimo primer aniversario de su Motu Proprio "Sacrorum Antistitum" contra el Modernismo. En dicho motu proprio se imponía a todo el clero el JURAMENTO CONTRA LOS ERRORES DEL MODERNISMO, que fue obligatorio desde septiembre de 1910 hasta julio de 1967, pero cuyo contenido sigue siendo Doctrina de la Iglesia.
Bajo estas líneas pongo íntegro el texto del juramento en español:
FÓRMULA DEL JURAMENTO
Yo, _________ , abrazo y acepto firmemente todas y cada una de las cosas que han sido definidas, afirmadas y declaradas por el Magisterio inerrante de la Iglesia, principalmente aquellos puntos de doctrina que directamente se oponen a los errores de la época presente.
Y en primer lugar: profeso que Dios, principio y fin de todas las cosas, puede ser ciertamente conocido y, por tanto, también demostrado, como la causa por sus efectos, por la luz natural de la razón mediante las cosas que han sido hechas, es decir, por las obras visibles de la creación.
En segundo lugar: admito y reconozco como signos certísimos del origen divino de la religión cristiana los argumentos externos de la revelación, esto es, hechos divinos, y en primer término, los milagros y las profecías, y sostengo que son sobremanera acomodados a la inteligencia de todas las épocas y de los hombres, aun los de este tiempo.
En tercer lugar: creo igualmente con fe firme que la Iglesia, guardiana y maestra de la palabra revelada, fue próxima y directamente instituida por el mismo verdadero e histórico Cristo, mientras vivía entre nosotros, y que fue edificada sobre Pedro, príncipe de la jerarquía apostólica, y sus sucesores para siempre.
Cuarto: acepto sinceramente la doctrina de la fe transmitida hasta nosotros desde los Apóstoles por medio de los Padres ortodoxos siempre en el mismo sentido y en la misma sentencia; y por tanto, de todo punto rechazo la invención herética de la evolución de los dogmas, que pasarían de un sentido a otro diverso del que primero mantuvo la Iglesia; igualmente condeno todo error, por el que al depósito divino, entregado a la Esposa de Cristo y que por ella ha de ser fielmente custodiado, sustituye un invento filosófico o una creación de la conciencia humana, lentamente formada por el esfuerzo de los hombres y que en adelante ha de perfeccionarse por progreso indefinido.
Quinto: Sostengo con toda certeza y sinceramente profeso que la fe no es un sentimiento ciego de la religión que brota de los escondrijos de la subconsciencia, bajo presión del corazón y la inclinación de la voluntad formada moralmente, sino un verdadero asentimiento del entendimiento a la verdad recibida por fuera por oído, por el que creemos ser verdaderas las cosas que han sido dichas, atestiguadas y reveladas por el Dios personal, creador y Señor nuestro, y lo creemos por la autoridad de Dios, sumamente veraz.
También me someto con la debida reverencia y de todo corazón me adhiero alas condenaciones, declaraciones y prescripciones todas que se contienen en la Carta Encíclica Pascendi y en el Decreto Lamentabili, particularmente en lo relativo a la que llaman historia de los dogmas.
Asimismo repruebo el error de los que afirman que la fe propuesta por la Iglesia puede repugnar a la historia, y que los dogmas católicos en el sentido en que ahora son entendidos, no pueden conciliarse con los auténticos orígenes de la religión cristiana.
Condeno y rechazo también la sentencia de aquellos que dicen que el cristiano erudito se reviste de doble personalidad, una de creyente y otra de historiador, como si fuera lícito al historiador sostenerlo que contradice a la fe del creyente, o sentar premisas de las que se siga que los dogmas son falsos y dudosos, con tal de que éstos no se nieguen directamente.
Repruebo igualmente el método de juzgar e interpretar la Sagrada Escritura que, sin tener en cuenta la tradici6n de la Iglesia, la analogía de la fe y las normas de la Sede Apostólica, sigue los delirios de los racionalistas y abraza no menos libre que temerariamente la crítica del texto como regla única y suprema.
Rechazo además la sentencia de aquellos que sostienen que quien enseña la historia de la teología o escribe sobre esas materias, tiene que dejar antes a un lado la opinión preconcebida, ora sobre el origen sobrenatural de la tradición católica, ora sobre la promesa divina de una ayuda para la conservación perenne de cada una de las verdades reveladas, y que además los escritos de cada uno de los Padres han de interpretarse por los solos principios de la ciencia, excluida toda autoridad sagrada, y con aquella libertad de juicio con que suelen investigarse cualesquiera monumentos profanos.
De manera general, finalmente, me profeso totalmente ajeno al error por el que los modernistas sostienen que en la sagrada tradición no hay nada divino, o lo que es mucho peor, lo admiten en sentido panteístico, de suerte que ya no quede sino el hecho escueto y sencillo, que ha de ponerse al nivel de los hechos comunes de la historia, a saber: unos hombres que por su industria, ingenio y diligencia, continúan en las edades siguientes la escuela comenzada por Cristo y sus Apóstoles.
Por tanto, mantengo firmísimamente la fe de los Padres y la mantendré hasta el postrer aliento de mi vida sobre el carisma cierto de la verdad, que está, estuvo y estará siempre en la sucesión del episcopado desde los Apóstoles; no para que se mantenga lo que mejor y más apto pueda parecer conforme a la cultura de cada época, sino para que nunca se crea de otro modo, nunca de otro modo se entienda la verdad absoluta e inmutable predicada desde el principio por los Apóstoles.
Todo esto prometo que lo he de guardar íntegra y sinceramente y custodiar inviolablemente sin apartarme nunca de ello, ni enseñando ni de otro modo cualquiera de palabra o por escrito.
Así lo prometo, así lo juro, así me ayude Dios y estos Santos Evangelios de Dios.
http://catholicvs.blogspot.com/2011/09/festividad-de-san-pio-x-papa-y-confesor.html
‏